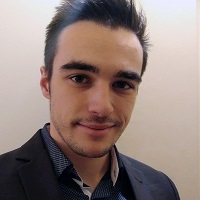 About me
Product & Project Manager
---
Recently graduated from a Master in web/e-Business, I am open minded and passionate. My unusual journey started in the litterature domain in high school during which I also had lessons in arts which helped me to improve my visual sensibility for my artistic works.
Back in September 2013, I started a course at International Institute of Multimedia (IIM) in the Web / e-Business departement. These lessons, combined with my two and half years experience as a part-time Project Manager in a digital start-up helped me to develop strong skills in management, communication and the web in general. I am committed to lead things to success with my entire perseverance, motivation and professionnalism.
I am passionate about new technologies and multimedia, but I also am a huge fan of music in general as a guitar player. I also like to read, draw and play video games.
I am a project manager with strong interests in Communication, Product and Team Management, e-Business and Marketing. Achiever and positive spirit, passionate about music and multimedia, I like to contribute to consistent and creative projects. My motivation and happiness are my two major strengths. Curiosity, self-teaching and versatility are anchored in my work habits.